Karen Lilienfeld
Religious School Director
karen@adathshalom.net
973-539-8549 x120
My name is Karen Lilienfeld and I am your Religious School Director. I look forward to sharing my love for Judaism and getting to know you and your family! I live in Morristown with my husband, Gary and two daughters, Erika and Julie. My older daughter is a sophomore at Brandeis University and my younger daughter is a junior at Morristown High School. We have a lovable rescue dog named Ari!
I first developed my love of Judaism in Jewish overnight camp. I loved celebrating Shabbat in the woods and Havdalah on the lake. I knew then, that I wanted to become a Jewish educator. My goal as Director of Adath Shalom is to bring the magic of Jewish summer camp where we experience "living Judaism" into the religious school setting. My teaching background from the NYC public school system, as well as on-going professional development programs have prepared me to create meaningful learning opportunities for our children. We want our children to experience and strengthen their connections to the Jewish people, each other, our greater Adath Shalom community and our legacy.
As Director, my objective is to ensure that our students are learning, identifying with and connecting to our traditions and history through best practices. Curriculum and programming will provide learning opportunities to meet the needs of ALL our students and families through stories, art, music, games, technology and more! My goal is to keep our students engaged. Religious School must be relevant, relational, and fun!
Pam Jorlett
Synagogue Administrator
pjorlett@adathshalom.net
973-539-8549, x121
Pam Jorlett has been with us as the Religious School Administrator since 2005. She is also the Synagogue Administrator and creates the Adath Shalom Happenings, Mazel Tov emails, sends the yahrzeit notices and donation letters, synagogue e-blasts, and keeps our Facebook page up-to-date.
Before coming to Adath Shalom, Pam was with the Jewish Community Center in both Whippany and West Orange for 4 years and with the Greater MetroWest Federation in Whippany for a year.
Shari Hoffman
Synagogue Accountant
shoffman@adathshalom.net
973-539-8549, x106
Shari Hoffman, our Synagogue Accountant, is a past Co-Chair of the Ritual Committee. She taught remedial Hebrew in the Religious School for 10 years. She is our synagogue representative on the board of nourish.NJ and its current president. She coordinates our serving and volunteering efforts there.
Shari is a CPA with over 30 years financial experience in the public and private sectors.
She lives in Mountain Lakes with her husband Mark. Along with their two sons, they have been members of Adath Shalom for over 25 years.
Carol Berman
Synagogue Social Worker
Cberman@adathshalom.net
973-539-8549 x108
Carol is available to congregants and staff for consultations, short-term therapy, assistance in locating community resources, support groups, and adult education programming. Her position is made possible through an affiliation with Jewish Family Service of MetroWest and a funding partnership of Adath Shalom, the Healthcare Foundation of New Jersey and the Jewish Federation of Greater MetroWest.

Carol Berman obtained her Bachelor of Fine Arts (B.F.A.) degree from the University of Miami where she first began working with underserved grade school children using Drama Therapy. Carol now works with children, young adults, adults and senior adults using strengths based therapies tailored to the unique needs of each client. Carol earned her Master of Social Work (M.S.W.) degree from Rutgers University School of Social Work in 2018. Carol is in the Alternative Track RDT (Registered Drama Therapist) license process through the North American Drama Therapy Association. Carol's extensive experience in program administration, teaching and directing theater is the perfect backdrop for her strengths based therapeutic social work. Carol is an experienced and progressive group leader who combines her humor and warmth to create an atmosphere of healing.
Juan Isaza
Facilities Manager
juan@adathshalom.net
973-539-8549, x107
Juan works closely with the Building and Grounds Committee in managing the security and maintenance of the building. He is an integral member of the synagogue's COVID-19 Reopening Committee. He is also involved in overseeing catering functions as well preparation for synagogue events and programs.
Juan has been with Adath Shalom for over 18 years. Juan has a Bachelors degree in Arts from Fairleigh Dickinson University.
Matzah Brei Rudin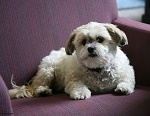 Synagogue Mascot
Matzah is a beautiful girl who loves her dad, belly rubs and treats. She can usually be found wherever the Rabbi is.
Thu, June 24 2021
14 Tammuz 5781
Thu, June 24 2021 14 Tammuz 5781