Cantor Avima Rudavsky Darnov
Religious School Director
CantorAvima@adathshalom.net
973-539-8549 x120
See bio in Clergy section
Pam Jorlett
Synagogue Administrator
pjorlett@adathshalom.net
973-539-8549, x121
Pam Jorlett has been with us as the Religious School Administrator since 2005. She is also the Synagogue Administrator and creates the Adath Shalom Mazel Tov emails, sends the yahrzeit notices, synagogue e-blasts, and keeps our Facebook page up-to-date.
Before coming to Adath Shalom, Pam was with the Jewish Community Center in both Whippany and West Orange for 4 years and with the Greater MetroWest Federation in Whippany for a year.
Susan Bachar
Synagogue Bookkeeper
sbachar@adathshalom.net
973-539-8549, x 106
Susan is a new member of our staff. She is our bookkeeper/accountant and is responsible for our membership accounts, donations and all accounting functions. She is also becoming our ShulCloud maven. Susan previously worked in finance for 30 years and semi-retired in 2020.
Juan Isaza
Facilities Manager
juan@adathshalom.net
973-539-8549, x107
Juan works closely with the Building and Grounds Committee in managing the security and maintenance of the building. He is an integral member of the synagogue's COVID-19 Reopening Committee. He is also involved in overseeing catering functions as well preparation for synagogue events and programs.
Juan has been with Adath Shalom for over 18 years. Juan has a Bachelors degree in Arts from Fairleigh Dickinson University.
Matzah Brei Rudin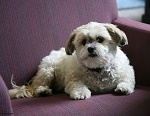 Synagogue Mascot
Matzah is a beautiful girl who loves her dad, belly rubs and treats. She can usually be found wherever the Rabbi is.
Fri, December 8 2023
25 Kislev 5784
Fri, December 8 2023 25 Kislev 5784