Pam Jorlett
Synagogue Administrator
pjorlett@adathshalom.net
973-539-8549, x121
Pam Jorlett has been with us as the Religious School Administrator since 2005. She is also the Synagogue Administrator and creates the Adath Shalom Happenings, Mazel Tov emails, sends the yahrzeit notices and donation letters, synagogue e-blasts, and keeps our Facebook page up-to-date.
Before coming to Adath Shalom, Pam was with the Jewish Community Center in both Whippany and West Orange for 4 years and with the Greater MetroWest Federation in Whippany for a year.
Shari Hoffman
Synagogue Accountant
shoffman@adathshalom.net
973-539-8549, x106
Shari Hoffman, our Synagogue Accountant, is a past Co-Chair of the Ritual Committee. She taught remedial Hebrew in the Religious School for 10 years. She is our synagogue representative on the board of nourish.NJ and its current president. She coordinates our serving and volunteering efforts there.
Shari is a CPA with over 30 years financial experience in the public and private sectors.
She lives in Mountain Lakes with her husband Mark. Along with their two sons, they have been members of Adath Shalom for over 25 years.
Carol Berman
Synagogue Social Worker
Cberman@adathshalom.net
973-539-8549 x108
Carol is available to congregants and staff for consultations, short-term therapy, assistance in locating community resources, support groups, and adult education programming. Her position is made possible through an affiliation with Jewish Family Service of MetroWest and a funding partnership of Adath Shalom, the Healthcare Foundation of New Jersey and the Jewish Federation of Greater MetroWest.

Carol Berman obtained her Bachelor of Fine Arts (B.F.A.) degree from the University of Miami where she first began working with underserved grade school children using Drama Therapy. Carol now works with children, young adults, adults and senior adults using strengths based therapies tailored to the unique needs of each client. Carol earned her Master of Social Work (M.S.W.) degree from Rutgers University School of Social Work in 2018. Carol is in the Alternative Track RDT (Registered Drama Therapist) license process through the North American Drama Therapy Association. Carol's extensive experience in program administration, teaching and directing theater is the perfect backdrop for her strengths based therapeutic social work. Carol is an experienced and progressive group leader who combines her humor and warmth to create an atmosphere of healing.
Juan Isaza
Facilities Manager
juan@adathshalom.net
973-539-8549, x107
Juan works closely with the Building and Grounds Committee in managing the security and maintenance of the building. He is an integral member of the synagogue's COVID-19 Reopening Committee. He is also involved in overseeing catering functions as well preparation for synagogue events and programs.
Juan has been with Adath Shalom for over 18 years. Juan has a Bachelors degree in Arts from Fairleigh Dickinson University.
Matzah Brei Rudin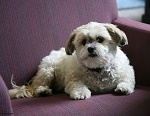 Synagogue Mascot
Matzah is a beautiful girl who loves her dad, belly rubs and treats. She can usually be found wherever the Rabbi is.
Tue, May 24 2022
23 Iyyar 5782
Upcoming Events
All Events
Wednesday

,

May

May

25

,

2022

Wednesday Morning Minyan


Wednesday, May 25th

6:45a

to

7:30a




Thursday

,

May

May

26

,

2022

Life Long Learning Meeting


Thursday, May 26th

2:00p

to

3:00p




Friday

,

May

May

27

,

2022

Multi-access (Hybrid) Zoom Kabbalat Shabbat


Friday, May 27th

7:15p

to

8:15p




Multi-access (Hybrid) Zoom Kabbalat Shabbat

Monday

,

May

May

30

,

2022

Office Closed
Monday, May 30th (All day)


Tuesday

,

May

May

31

,

2022

Yiddish through Song


Tuesday, May 31st

7:00p

to

8:00p




Class with Broadway and Yiddish Theater's own Pauline Hahn in the amazing world of Yiddish music! Join Zoom Meeting https://us02web.zoom.us/j/89804213938?pwd=ajVhL1ZmM2hxVE9qdU9oSEhnYzBOUT09 Meeting ID: 898 0421 3938 Passcode: Israel

Wednesday

,

Jun

June

1

,

2022

Interfaith Council


Wednesday, Jun 1st

9:30a

to

10:30a




Wednesday

,

Jun

June

1

,

2022

Adult Hebrew Class


Wednesday, Jun 1st

5:00p

to

6:00p




Adult Hebrew Class

Wednesday

,

Jun

June

1

,

2022

Adult Bar/Bat Mitzvah Program - Unit One


Wednesday, Jun 1st

7:00p

to

8:30p




Thursday

,

Jun

June

2

,

2022

Melton


Thursday, Jun 2nd

10:00a

to

12:00p


Biblical Women: Emerging Through the Midrash For information on joining the course, contact Rhonda Lillienthal at Rlillianthal@jccmetrowest.org. Registered students, join us on Zoom!https://zoom.us/j/275263031#success

Thursday

,

Jun

June

2

,

2022

Life Long Learning Meeting


Thursday, Jun 2nd

2:00p

to

3:00p



Tue, May 24 2022 23 Iyyar 5782